A one-of-a-kind collaboration!
Introducing a truly unique collaboration that is designed to bring peace of mind and an unforgettable experience to your wedding. We are teaming up with Southern Entertainment because we want your wedding to be an epic event that you'll treasure forever. (Oh, and we also think it should be affordable too!)

---
Why This Works:
Working Together:

We work with you and each other to make sure your wedding and/or reception goes of without a hitch while keeping your guests engaged and entertained.

Stress Free:

We are in constant contact to make sure all of your scheduled activities stay on schedule and happen the way you want them too.

Trust:

We trust each other to perform at the highest level to provide you with not only the best service, but the best experience possible.

Experience:

Time and time again we are able to provide our clients with a proven and reliable experience that leaves guests and clients alike raving about their wedding and reception.
---
Here's the deal:
We dig each others work so much that we offer 10% off each of our wedding services exclusively to those who book with both 2&3 and SE.
Our brides and grooms always tell us how great it is to have two of their most important wedding vendors on the same page during their wedding day. Here are what some of the amazing couples we've worked with have to say:
Sam & Jessica Kees (09/24/11)
Salem Glen Country Club, Winston Salem
"I hired both Southern Entertainment and 2&3 Photography for my wedding because they offer clients a discount when you use both of their services and more importantly, I was told by someone who had hired both of them that they work really well together and will do their utmost to make the wedding day/night run as smoothly and efficiently as possible. Since I didn't have a wedding planner, I figured this was the next best thing! I am extremely happy with how my wedding turned out and could not have asked for better photographers or a better DJ and feel that there are no other photographers and DJs that work as well together as Thad, Sarah, and Ben. "
Seth & Natalie Hansen (11/13/10)
TPC Wakefield Plantation, Raleigh
"Planning a wedding is complicated: find the perfect dress, design invitations, choose flowers, etc. Why struggle searching for the right photographer, all while stressing out over the right DJ as well? Natalie and I searched extensively for both high quality and affordability for both of these services. Being from out of town, we were lucky enough to come across 2+3 Photography and Ben Suggs of Southern Entertainment, who offered us a convenient and affordable package deal. The consultations were very comfortable, and the professional results exceeded our expectations. DJ Ben Suggs kept the party going all night long, while Thad and Sarah of 2+3 Photography so beautifully captured the moments we will never forget. Natalie and I, to this day, are extremely happy with our decision, and would highly recommend this power packed duo. "
Jillian & Charles Warren (11/12/11)
Grand Marquise Ballroom, Garner
"We loved working with 2and3 Photography & Southern Entertainment for our wedding! Not only were they incredibly professional, but they were also fun! Ben kept the dance floor full the entire night with everyone's favorite songs, while Thad and Sarah captured all the best moments of our day. They worked well together, were creative and high-energy, and did everything we asked and more. We never thought we would get complimented on our photographers and DJ in the middle of the reception, but we did!"
Paul & Laura Ku (10/23/10)
NCSU University Club, Raleigh
"Ben, Thad, and Sarah made our wedding experience truly spectacular! Ben was able to create great atmosphere and was very flexible to our on the fly changes that were had to do on wedding day. Thad and Sarah are alway at the right place to capture those special moments and make them look amazing. From working together they create a very seemless and coordinated experience. We highly recommend their services."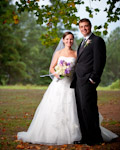 Ricky & Meredith Ebersohl (09/11/10)
Carolina Trace Country Club, Sanford
"Hiring 2&3 photography and Southern Entertainment to photograph and DJ for our big day was one of the best wedding planning decisions we made! They made a great team and worked well together in situations we hadn't anticipated. Right before it was time for us to make our entrance into the reception, we realized we hadn't told Ben what song to play as he announced the bridal party. Thad called Ben on his cell phone to tell him what to play, and they worked out the timing perfectly. Throughout the reception, they made sure the music and the photography were coordinated. Ben kept our guests dancing and having fun the whole night, and 2&3 captured the night perfectly. You can almost hear the music playing while looking at the pictures of the reception."